Roberta Brown Stunt Doubles for Tessie Santiago
Welcome to Queen of Swords Fan Central
As David Abramowitz promised us earlier this year, Queen of Swords is an action packed, exciting ride through the word of late 19th century California. Tessie Santiago and the rest of the stellar cast do a great job recreating the Zorro-esqe mythos. We hope to bring you the inside scoop on the Cast, writers, directors and crew.
Lyria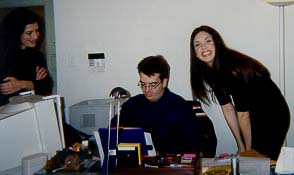 Tessie Saniiago and Roberta Brown confer with Script coordinator Andrew Helm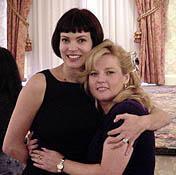 Liz Gracen joins the Queen of Swords cast in the Episode "Counterfeit Queen"