Tessie Santiago plays our Zorro -esqe heroine Tessa Alvarado/ Queen of Swords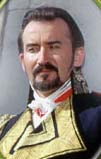 Valentine Pelka plays the ultimate Machiavellian bad guy, Colonel Luis Montoya
Anthony Lemke as Montoya's Mercanary Captian Marcus Grisham
Star Biographies
Tessie Santiago -
Literally discovered during a nationwide search, Tessie landed the part of Queen of Swords in her very first professional acting audition, instantly capturing the essence, strength and beauty of a young Latina woman fighting for all things just. Tessie has been preparing for the role her entire life.
The Miami born Cuban American grew up in a tight knit family of artists, including a sculptor grandfather, musician father and painter mother. From first playing the piano at age 7 to performing in musicals to studying Shakespeare in London and earning a double major in film and theater at the University of Miami, Santiago has always immersed herself in creative endeavors.
Since getting her own TV show, the 5'8" inch beauty has filmed two comercials in Spanish and thrown herself into training for the show, learing how to horseback ride, flamenco dance and fence. She's an avid reader who counts Henry Miller, Anais Nin and Milan Kundera among her favorite authors. Tessie also aspires to work behind the camera, both writing and directing. She loves living in Miami where she attends plays and concerts, watches foriegn films and spends time with her family and friends.
Peter Wingfield -
Peter Wingfield was on the verge of completing his medical training when he realized he didn't want to be a doctor and dropped out to pursue and acting career. As a child in Cardiff, Wales, he studied drama at the National Youth Theater, and resumed his dramatic training years later at the Guildhall School of Music and Drama in London. Landing his first acting role because he knew how to drive, Peter debuted in Beeban Kidron's "Antonia and Jane".
He has gone on to become a British Television staple, having starred in countless productions over the past ten years, including the series Medics, Soldier Soldier, Antonia Bird's The Men's Room, Lifeboat, Nice Day at the Office, and Noah's Ark. He has the mini-series Into the Fire, Martin Chuzzlewit, and Crocodile Shoes under his belt as well as the telefilms, Six Characters in Search of an Author, Trust Me, Alun Levis:Death and Beauty - in the title role, Degas and Pissaro Fall Out, Murder in Mind, and Over Here.
American Audiences know and love Peter as Methos, the oldest living Immortal on the cult hit Highlander-the series. Peter will reprise the role of Methos in the upcoming feature "Highlander - Engame"
Peter excels at athletics and a once national trampoline champion and representative of Wales in the national club finals in Pole-vaulting, now finds running, particularly long distance marathons his sport of choice. He also plays two instruments, the saxophone and the flute.
Valentine Pelka -
Valentine Pelka is an alumnus of the London Academy of Music and Dramatic Art, where in addition to his stage training, he received stage combat training under the direction of John Waller. While at the prestigious Royal Shakespeare Company, the Dewsbury, West Yorkshire native played leading roles in Romeo and Juliet and A Woman Killed with Kindness, as well as performed a one man show entitled Maud. A familiar figure on British Stage and Screen, he has appeared in Nanou, If Tommorrow Comes, Hold the Dream and Good King Wenceslas.
Vals film credits include John Paul II alongside Albert Finney, Sakharov, Monsignor Quixote, Rowing with the Wind, and King David. He had a memorable role as Sir Patrise in First Knight with another Highlander Alumni Sean Connery, and also appeared with Parker Posey in the indie What Rat's Won't Do. To American audiences he is best known for his recurring role as the wildly popular bad guy Kronos on Highlander - the Series and as Korda on Highlander - the Raven.
Val has just recently finished principal photography on The Last of The Blonde Bombshells alongside Sir Ian Holm and Dame Judi Densch.
But Valentine isn't just and actor, he's a painter and artist as well. He hopes to show his works publicly in the near future. He loves 19th century literature, has a degree in the Humanities, speaks French, Italian and some Spanish. A Husband and a father to a son, Valentine Pelka is a student of Aikido since 1993, a profiecient horseman and an enthusiastic and life long supporter of the Leeds United Soccer Team.
More to come!!!!
Peter Wingfield as Doctor Robert Helm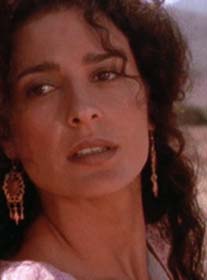 Paulina Gavez as the savvy gypsy Marta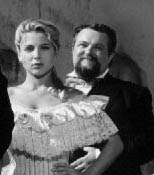 Elsa Pataky and Tacho Gonzales as Vera and Don Hidalgo